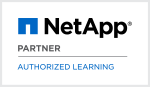 Data ONTAP SAN Implementation (SANIMP)
Quién debería asistir
Professionals who implement SAN solutions that use NetApp storage systems
Certificaciones
Este curso es parte de las siguientes Certificaciones:
Prerrequisitos
Certification as a NetApp Data Management Administrator
Completion of two courses:
Objetivos del curso
By the end of this course you should be able to:
Define and describe SANs that use FC, FCoE, and iSCSI protocols
Configure Windows Server 2012 R2, Red Hat® 6.5, and Data ONTAP® systems for iSCSI connectivity
Configure Windows Server 2012 R2, Red Hat 6.5, and Data ONTAP systems for FC and FCoE connectivity
Use FC and iSCSI protocols to create and access LUNs from Windows Server 2012 and Red Hat 6.5 systems
Create and access a LUN from Windows Server 2012 and Red Hat 6.5
Size, clone, copy, move, back up, and recover LUNs on Windows Server 2012 R2 and Red Hat 6.5 systems
Troubleshoot SAN connectivity and performance issues
Follow On Courses
Contenido del curso
In this workshop course, you learn how to connect Windows® and Linux® hosts to NetApp® SANs via FC and iSCSI protocols.
Classroom training
Duración 3 días
Precio
(sin incluir impuestos)
España:

2.700,- €

NetApp Training Units:

36 NTU
Courseware language: Inglés
Presionar el boton sobre el nombre de la ciudad para reservar
Calendario
Fast Lane llevará a cabo todos los cursos garantizados sin importar el número de participantes, excepto por razones de fuerza mayor u otros eventos inesperados, como e.g. accidentes o enfermedad del instructor, que eviten que el curso se realice.
This class will become guaranteed to run with one more student registration.
Este es un curso en línea Guiado por un Instructor
Este es un curso
FLEX
, que es entregado tanto virtualmente como en el salón de clase.
Europa
España
Actualmente no hay fechas de entrenamiento disponibles. Para consultas por favor escribir a info@flane.es
FLEX Training
Please see below our alternative, English language, FLEX course option.
Alemania
Suiza
Austria
Bulgaria
Eslovenia
Hungría
Italia
Polonia
Reino Unido
12.02. - 14.02.2020
FLEX training
Curso FLEX. Lenguaje: Inglés


Zona Horaria: Europe/London
garantizado!
20.05. - 22.05.2020
FLEX training
Curso FLEX. Lenguaje: Inglés


Zona Horaria: Europe/London
República Checa
Romania
Serbia
América del Norte
Estados Unidos de América