Fast Lane Centro de Datos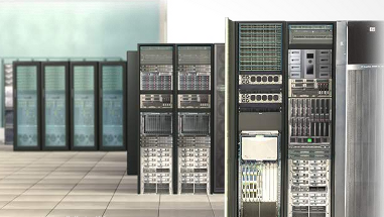 Para ver este video usted necesita Adoble Flash Player con habilitación JavaScriptObtener el Flash Player
Fast Lane Data Center
Ofrecemos a nuestros clientes un lab con un entorno único para Cisco, NetApp, VMware, Symantec y otros proveedores.
Más de 300 laboratorios remotos de alta calidad, disponibles a nivel mundial, 24 horas al día, con soporte en directo. Más de 4.000 estudiantes pueden trabajar simultáneamente con el hardware durante el training.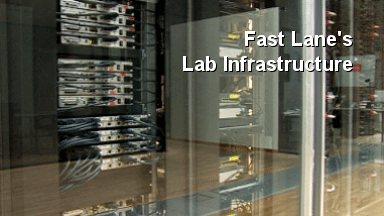 Para ver este video usted necesita Adoble Flash Player con habilitación JavaScriptObtener el Flash Player
Experiencia Práctica con más de 300 Labs de alta calidad
Fast Lane ofrece un training y demuestra un entorno de lab, mundialmente sin igual, para cubrir cada aspecto del networking de alta calidad. Característicos dispositivos y tecnologías de vanguardia, los labs y con servicio de primera clase, subiendo el listón para un training de calidad. Además, estos labs están accesibles en cualquier parte para los consultores, permitiendo a los clientes la experiencia y probar en directo las últimas tecnologías.

Nuestros labs, hospedados en Berlín, Hamburgo, Frankfurt y Düsseldorf incluyen, ej.:
Cisco Nexus labs equipados con Nexus 7000 y 5010 Switches, Nexus 2000 Fabric Extenders y VMware ESX Servers incluyendo Nexus 1000V
Cisco Unified Computing System (UCS) labs con Blade Servers, Fabric Extenders, Fabric Interconnects y Storage Systems, además de un Cisco/NetApp/VMware Multivendor lab
Sólo en Europa Cisco SAN lab con Cisco MDS 9222i Switches
switching labs de alta calidad con más de 30 Cisco Catalyst 6500 Switches
amplia TelePresence / Tandberg and Digital Media Suite (DMS) labs
Voice labs con 80 integrated Unified Communications Manager, Cisco Unity y ICM Enterprise Clusters
Quality of Service (QoS) labs
un Optical lab que incluye cuatro ONS 15454E Switches
labs de Seguridad que incluyen Virtual Private Networks (VPN), Firewalls (ASA), Intrusion Prevention System (IPS), Cisco NAC and MARS
Unified Wireless labs, cubren el completo campo de la conectividad básica wireless hasta la preparación CCIE Wireless, incluyendo WiSM
extra Service Provider labs
NetApp labs con FAS3040 Cluster, además 16 FAS2050 y otros sistemas de almacenamiento
VMware labs incluyen numerosos ESX servers
Symantec labs incluyen numerosos servidores de alto rendimiento con Solaris y Windows
Data Center Labs
Aquí pueden ver algunos de nuestros data center labs de alta calidad!
Cisco Nexus 7000/5000/2000/1000V Labs en Berlin, Hamburgo y Frankfurt
Cisco Unified Computing System (UCS) / Multivendor Data Center Labs
Cisco Application Networking Labs
Cisco SAN Lab
NetApp Storage & Data Center Labs
VMware Virtualization Labs
Symantec Labs
Multivendor Interoperability SAN Lab
Routing & Switching Labs
Aquí pueden ver algunos de nuestros routing & switching labs de alta calidad!
Cisco CCNP Routing Labs
Cisco CCNP Switching Labs
Advanced Cisco Switching Labs
Advanced IPv6 Lab
Advanced MPLS / BGP / Multicast Lab
Cisco Network Management Lab
Voice & Video Labs
Aquí pueden ver algunos de nuestros voice & video labs de alta calidad!
Cisco Voice / Cisco Unified Communications Manager Labs
Cisco TelePresence / Tandberg Labs
Cisco Unified Videoconferencing 3500 MCU
Cisco 7800 Series Media Convergence Servers
Cisco TelePresence Manager
TelePresence Classroom
Latest Codec Generation
Full HD Monitors
RMA Kits
Cisco Service Provider Voice Labs
Security Labs
Aquí pueden ver algunos de nuestros security labs de alta calidad!
Cisco IOS Security Lab
Advanced Cisco ASA / VPN Lab
Advanced Cisco IPS Lab
Cisco MARS (Monitoring, Analysis & Response System) Lab
Cisco NAC Appliance Lab
Cisco Security Manager Lab
Check Point Security Lab
Wireless Labs
Aquí pueden ver algunos de nuestros unificados wireless labs de alta calidad!
Cisco Unified Wireless Networking Essentials Lab
Cisco 2106 Wireless LAN Controllers
Cisco 526 Wireless Express Mobility Controllers
Cisco Aironet 1252 Access Points
Cisco 521 Wireless Express Access Points
Advanced Cisco Unified Wireless Networking Labs