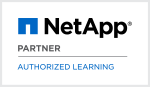 Designing the FlexPod Solution (FPDESIGN)
Resumen del Curso
This course shows learners how to evaluate the FlexPod solution design process in regard to the contemporary data center challenges. The course follows a standard design methodology that is used to create FlexPod designs. FlexPod architectures, components, design principles, use cases, and preconfigured solutions are examined. Using NetApp and Cisco tools, learners create FlexPod designs that correlate to real-world environments.
Quién debería asistir
NetApp, Cisco or NetApp partner professional services
If you already have a working FlexPod system, then you do not need this course.
Certificaciones
Este curso es parte de las siguientes Certificaciones:
Prerrequisitos
Technical Overview of FlexPod Solutions
Knowledge of NetApp hardware, software and cluster administration
Knowledge of Cisco hardware, software and administration
Objetivos del curso
Explain the capabilities and benefits of the FlexPod solution
Explain FlexPod data center architectures
Identify the FlexPod design principles
Describe FlexPod design methodology
Identify the NetApp and Cisco sizing tools
Describe FlexPod management, orchestration, and support options
Describe solutions for common FlexPod designs
Identify the hardware and software components that are used in common FlexPod designs
Follow On Courses
Classroom training
Duración 2 días
Precio
(sin incluir impuestos)
Idioma de los documentos del curso: Inglés
Calendario
Se garantizará la realización de esta clase con un registro más de estudiantes.
Instructor-led Online Training: Este es un curso en línea Guiado por un Instructor
Este es un curso
FLEX
, que es entregado tanto virtualmente como en el salón de clase.
Francés
Zona Horaria CEST
2021-02-08 ― 2021-02-09
Entrenamiento en línea
Curso FLEX. Lenguaje: Francés


Zona Horaria: Central European Time (CET)
Este es un curso
FLEX
, que es entregado tanto virtualmente como en el salón de clase.
España
Actualmente no hay fechas de entrenamiento disponibles. Para consultas por favor escribir a info@flane.es
FLEX & Online Training
Por favor, vea a continuación nuestra alternativa, el idioma inglés, la opción de curso FLEX.
2021-02-01 ― 2021-02-02
Londres, Ciudad
Curso FLEX. Lenguaje: Inglés


Zona Horaria: Greenwich Mean Time (GMT)
Europa
Francia
2021-02-08 ― 2021-02-09
París
Curso FLEX. Lenguaje: Francés


Zona Horaria: Central European Time (CET)
Países bajos
2021-05-17 ― 2021-05-18
Utrecht
Curso FLEX. Lenguaje: Inglés


Zona Horaria: Central European Summer Time (CEST)
Reino Unido
2021-02-01 ― 2021-02-02
Londres, Ciudad
Curso FLEX. Lenguaje: Inglés


Zona Horaria: Greenwich Mean Time (GMT)
2021-06-21 ― 2021-06-22
Londres, Ciudad
Curso FLEX. Lenguaje: Inglés


Zona Horaria: British Summer Time (BST)