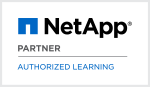 Designing the FlexPod Solution (FPDESIGN)
Resumen del Curso
This course shows learners how to evaluate the FlexPod solution design process in regard to the contemporary data center challenges. The course follows a standard design methodology that is used to create FlexPod designs. FlexPod architectures, components, design principles, use cases, and preconfigured solutions are examined. Using NetApp and Cisco tools, learners create FlexPod designs that correlate to real-world environments.
Quién debería asistir
NetApp, Cisco or NetApp partner professional services
If you already have a working FlexPod system, then you do not need this course.
Prerrequisitos
Technical Overview of FlexPod Solutions
Knowledge of NetApp hardware, software and cluster administration
Knowledge of Cisco hardware, software and administration
Objetivos del curso
Explain the capabilities and benefits of the FlexPod solution
Explain FlexPod data center architectures
Identify the FlexPod design principles
Describe FlexPod design methodology
Identify the NetApp and Cisco sizing tools
Describe FlexPod management, orchestration, and support options
Describe solutions for common FlexPod designs
Identify the hardware and software components that are used in common FlexPod designs
Follow On Courses
Classroom training
Duración 2 días
Precio
(sin incluir impuestos)
Presionar el boton sobre el nombre de la ciudad para reservar
Calendario
Fast Lane llevará a cabo todos los cursos garantizados sin importar el número de participantes, excepto por razones de fuerza mayor u otros eventos inesperados, como e.g. accidentes o enfermedad del instructor, que eviten que el curso se realice.
Este es un curso en línea Guiado por un Instructor