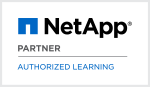 SnapProtect Solution Administration (SPSA)
Quién debería asistir
Customers, Partners, and NetApp employees
Prerrequisitos
Objetivos del curso
By the end of this course, you should be able to:
Install and configure a NetApp SnapProtect solution environment
Set up SnapProtect disk libraries
Set up SnapProtect disk-to-disk and disk-to-tape storage policies
Protect NAS and SAN application data in physical and virtual environments
Upgrade and restore the SnapProtect solution environment
Use diagnostic tools to troubleshoot the SnapProtect solution
Contenido del curso
This course provides instruction, hands-on practice, and interactive demonstrations to help you to learn how to plan, implement, operate, and troubleshoot the NetApp SnapProtect solution. Learn how to configure backup and recovery for NetApp storage system volumes, Microsoft SQL, SharePoint, and Exchange server content databases, Hyper-V and VMware virtual machines, and Oracle databases. Learn how to upgrade, restore, and troubleshoot the SnapProtect solution central control: the CommServe and DataFabric Manager servers.
Classroom training
Duración 2 días
Precio
(sin incluir impuestos)
España:

2.700,- €

NetApp Training Units:

36 NTU
Courseware language: Inglés
Presionar el boton sobre el nombre de la ciudad para reservar
Calendario
Este es un curso
FLEX
, que es entregado tanto virtualmente como en el salón de clase.
España
Actualmente no hay fechas de entrenamiento disponibles. Para consultas por favor escribir a info@flane.es
Bulgaria
Croacia
Eslovaquia
Eslovenia
Hungría
Reino Unido
11.06. - 12.06.2020
FLEX training
Curso FLEX. Lenguaje: Inglés


Zona Horaria: Europe/London
24.09. - 25.09.2020
FLEX training
Curso FLEX. Lenguaje: Inglés


Zona Horaria: Europe/London
26.11. - 27.11.2020
FLEX training
Curso FLEX. Lenguaje: Inglés


Zona Horaria: Europe/London
República Checa
Romania
Turquía