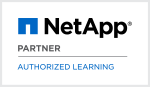 Managing NAS and Performance on Clustered Data ONTAP (NASPAD)
Quién debería asistir
Professionals who manage NetApp storage systems and need a deeper understanding of protocols and performance in a clustered Data ONTAP environment.
Prerrequisitos
The following course is recommended before attending the Manage NAS and Performance on clustered Data ONTAP class.
ONTAP 9 Cluster Administration and Data Protection Bundle (NA-CDOTDP9)
Objetivos del curso
Define and describe NFS protocol versions
Configure clustered ONTAP 9 for NFSv3,NFSv4,and NFSv4.1 with parallel NFS (pNFS)
Configure Kerberos in a Linux and NetApp ONTAP 9 environment using Windows Active Directory authentication
Discuss performance management and troubleshooting for NetApp storage systems and clients
Explain the CIFS and SMB protocol
Demonstrate the Windows PowerShell CLI
Configure SMB features using ONTAP 9 software
Create and manage SMB shares and sessions
Secure SMB sessions
Configure ONTAP for multiprotocol data access
Discuss SMB advanced topics, such as opportunistic locks (oplocks), BranchCache, auditing, group policy, automatic home shares, symbolic links (symlinks), and widelinks
Describe how data flows through the network and protocol layers of clustered Data ONTAP
Define performance-related terms and describe basic methodologies
Identify the methods that can be used to monitor and analyze storage system performance
Explain how methods and tools can be used to collect performance data
Use command output to analyze system performance
Use command output from case studies to identify performance bottlenecks
Implement configuration for recommended practices for resiliency and performance
Locate resources and information that help you maximize system performance
Contenido del curso
This course combines CIFS, NFS, and performance analysis topics into a single, in-depth one-week course. It provides the knowledge and skills that you need to administer SMB version 1.x to 3.x and NFS versions 3, 4, and 4.1 in a clustered Data ONTAP® operating system. You also learn the skills you need to collect and analyze performance data from NetApp® storage systems.
Classroom training
Duración 5 días
Courseware language: Inglés
Presionar el boton sobre el nombre de la ciudad para reservar
Calendario
Fast Lane llevará a cabo todos los cursos garantizados sin importar el número de participantes, excepto por razones de fuerza mayor u otros eventos inesperados, como e.g. accidentes o enfermedad del instructor, que eviten que el curso se realice.
This class will become guaranteed to run with one more student registration.
Este es un curso en línea Guiado por un Instructor
Este es un curso
FLEX
, que es entregado tanto virtualmente como en el salón de clase.
Europa
España
Actualmente no hay fechas de entrenamiento disponibles. Para consultas por favor escribir a info@flane.es
FLEX Training
Please see below our alternative, English language, FLEX course option.
27.07. - 31.07.2020
FLEX training
Curso FLEX. Lenguaje: Inglés


Zona Horaria: Europe/London
07.09. - 11.09.2020
FLEX training
Curso FLEX. Lenguaje: Inglés


Zona Horaria: Europe/London
Reino Unido
27.07. - 31.07.2020
FLEX training
Curso FLEX. Lenguaje: Inglés


Zona Horaria: Europe/London
07.09. - 11.09.2020
FLEX training
Curso FLEX. Lenguaje: Inglés


Zona Horaria: Europe/London
América del Norte
Estados Unidos de América