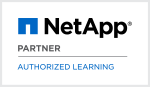 Implementing VMware vSphere on ONTAP (IMPVMWAR)
Resumen del Curso
In this course, you learn how to implement NetApp's Virtual Storage Console by deploying, managing, and protecting a VMware virtual infrastructure in both SAN and NAS environments using ONTAP. It also covers the implementation details for both traditional datastores and Virtual Volumes using Storage Policy Based Management. Monitoring of both traditional and VVOL performance characteristics are covered in lecture and hands on labs.Updated to align with ONTAP v9.4.
Quién debería asistir
NetApp employees, channel partners and customers
Prerrequisitos
The following training classes or equivalent knowledge are recommended:
Objetivos del curso
This course focuses on enabling you to do the following:
Describe the components of NetApp storage and how they integrate into a vSphere environment
Identify the types of datastores created by the Virtual Storage Console (VSC)
Explain how VSC provides an automated datastore provisioning capability
Describe the VVol datastore management process
Create VVol datastores and VVols
Identify performance characteristics of VVols using VSC
Monitor virtual machines with VSC performance dashboard
List the customer implementations for backup, restore and cloning capability when integrating vSphere with NetApp
Classroom training
Duración 2 días
Idioma de los documentos del curso: Inglés
Calendario
Guaranteed date: Fast Lane llevará a cabo todos los cursos garantizados sin importar el número de participantes, excepto por razones de fuerza mayor u otros eventos inesperados, como e.g. accidentes o enfermedad del instructor, que eviten que el curso se realice.
Instructor-led Online Training: Este es un curso en línea Guiado por un Instructor
Este es un curso
FLEX
, que es entregado tanto virtualmente como en el salón de clase.
Este es un curso
FLEX
, que es entregado tanto virtualmente como en el salón de clase.
España
Actualmente no hay fechas de entrenamiento disponibles. Para consultas por favor escribir a info@flane.es