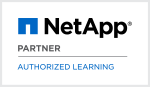 ONTAP Cluster Installation Workshop (COIW)
Quién debería asistir
NetApp and partner PSEs who are responsible for system installation
Certificaciones
Este curso es parte de las siguientes Certificaciones:
Prerrequisitos
Clustered Data ONTAP Fundamentals (WBT)

!

NA-D8CADM
Clustered Data ONTAP 8.2 Update Curriculum (WBT)
Clustered Data ONTAP 8.2 New Features (WBT)
What's New in Data ONTAP 8.2 Licensing (WBT)
Objetivos del curso
By the end of this course, you should be able to:
List and describe the installation preparation steps
Locate and use references, checklists, and forms
Conduct appropriate discussions with customers
Cable and test a multipath high-availability system to operate as a member of a multi-node cluster
Use the Config Advisor tool
Configure the cluster and switches
Test storage access
Conduct a formal hand off of the system to the customer
Contenido del curso
This course prepares you to deliver clustered Data ONTAP system installation services—meeting NetApp® quality standards and using NetApp best practices. Using your laptop, and the appropriate tools, you practice all installation tasks and set up NetApp equipment in a clustered configuration. You learn how to set up and test access to the system and the AutoSupport Connection, and conduct a customer briefing.
Classroom training
Duración 2 días
Precio
(sin incluir impuestos)
Courseware language: Inglés
Presionar el boton sobre el nombre de la ciudad para reservar
Calendario
Este es un curso
FLEX
, que es entregado tanto virtualmente como en el salón de clase.
Europa
España
Actualmente no hay fechas de entrenamiento disponibles. Para consultas por favor escribir a info@flane.es
FLEX Training
Please see below our alternative, English language, FLEX course option.
Alemania
Bulgaria
Croacia
Eslovaquia
Eslovenia
Polonia
República Checa
30.03. - 31.03.2020
FLEX training
Curso FLEX. Lenguaje: Inglés


Zona Horaria: Europe/Prague
Turquía