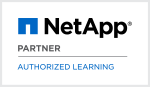 VMware vSphere on NetApp (VVNA)
Quién debería asistir
Persons interested in understanding NetApp Storage System technologies and their integration with VMware's ESX/vSphere environments.
Those responsible for maintaining a constant virtualization infrastructure while communication with NetApp storage.
Storage administrators with working environments of virtualization or in the process of planning a virtual configuration.
Prerrequisitos
Knowledge on NetApp Storage Systems, VMware Virtualization, Linux and Windows Servers.
Objetivos del curso
This course covers the installation, configuration, and administration of an ESX/vSphere Server and focuses on optimal connectivity on NetApp Storage Systems using FCP, iSCSI, and NFS. Backup and Restore of VMware ESX/vSphere Server storage LUNs with ESX and NetApp are also covered, as is the planning and operation of VMware ESX Server and NetApp Storage Systems in a high availability scenario. Provide practical scenarios for implementing ESX/vSphere on NetApp utilizing utilities from both environments.
Contenido del curso
Overview of the VMware virtualization concepts
Basic configuration of the VMware ESX Server and the VMs
Virtualization concepts for networking in VMware
Configuration and implementation of Standard and Distributed Virtual Switches within vSphere
NetApp networking best practices including VIFs and trunking concepts
Storage concepts and availability in vSphere NetApp environment
Planning, installation and configuration of FCP, NFS, and iSCSI in the VM Kernel
Overview and configuration of NetApp ESX/vSphere Host Utility Kit (HUK) for FCP & iSCSI
Configuration recommendations for VMs running in VMFS Datastores
Best practices for vSphere deployment and intelligent caching using NetApp PAM cards
Backup scenarios including NetApp SnapDrive 2.6, Snap Manager for Virtual Infrastructure, SnapMirror, SnapVault, OSSV and MetroCluster.
Installation and configuration of NetApp Virtual Console for storage mining and collecting data
Rapid Cloning Utility for rapid VM deployment on NetApp storage
High availability scenarios
Monitoring and system management
Troubleshooting
Course Benefits

Give the student a better understanding of how to deploy a virtualized infrastructure within a NetApp environment.
To have a firm comprehension of VMware services, protocols and connectivity.
Utilization of NetApp virtualization applications to ensure proper functionality and performance for virtual machines.
Classroom training
Duración 5 días
Precio
(sin incluir impuestos)
España:

4.500,- €

NetApp Training Units:

60 NTU
Idioma de los documentos del curso: Inglés
Calendario
Guaranteed date: Fast Lane llevará a cabo todos los cursos garantizados sin importar el número de participantes, excepto por razones de fuerza mayor u otros eventos inesperados, como e.g. accidentes o enfermedad del instructor, que eviten que el curso se realice.
Se garantizará la realización de esta clase con un registro más de estudiantes.
Instructor-led Online Training: Este es un curso en línea Guiado por un Instructor
Este es un curso
FLEX
, que es entregado tanto virtualmente como en el salón de clase.
Este es un curso
FLEX
, que es entregado tanto virtualmente como en el salón de clase.
FLEX & Online Training
Por favor, vea a continuación nuestra alternativa, el idioma inglés, la opción de curso FLEX.
Europa
Alemania
Portugal
Reino Unido
2021-05-24 ― 2021-05-28
Londres, Ciudad
Curso FLEX. Lenguaje: Inglés


Zona Horaria: BST