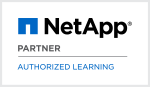 ONTAP MetroCluster Installation (MCCIIW)
Quién debería asistir
NetApp customers, partners, and employees
Objetivos del curso
By the end of this course, you should be able to:
Describe the major architectural components of a MetroCluster environment in ONTAP 9
Cable nodes, back-end FC switches and FibreBridge devices
Set up bridges and back-end FC switches
Configure the clusters at both sites in a MetroCluster environment
Set up a MetroCluster configuration and serve data to clients
Detect and recover from failures in a MetroCluster environment
Install and configure Tiebreaker software
Contenido del curso
MetroCluster software is a unique high-availability and disaster-recovery solution. This is an advanced course where you will learn how to install, configure and administer a MetroCluster environment. Hands-on labs, available in the ONTAP 9 environment, allow you to practice setting up the configuration, identify component failures and practice recovery steps.
Classroom training
Duración 2 días
Courseware language: Inglés
Presionar el boton sobre el nombre de la ciudad para reservar
Calendario
Este es un curso
FLEX
, que es entregado tanto virtualmente como en el salón de clase.
Europa
España
Actualmente no hay fechas de entrenamiento disponibles. Para consultas por favor escribir a info@flane.es
FLEX Training
Please see below our alternative, English language, FLEX course option.
Bulgaria
Croacia
Eslovaquia
Países bajos
República Checa
Turquía