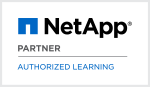 Implementing VMware vSphere on Data ONTAP (IMPVMVS)
Quién debería asistir
NetApp employees, channel partners, and customers
Prerrequisitos
The following training classes or equivalent knowledge are recommended:
Objetivos del curso
By the end of this course, you should be able to:
Describe the VMware vSphere 6.0 virtualization solution
Articulate the NetApp value proposition for integrating clustered Data ONTAP with vSphere 6.0
Configure physical and virtual infrastructures
Use the clustered Data ONTAP operating system to provision virtual infrastructure
Create, migrate, and clone virtual machines
Describe the Virtual Volumes datastore-management process
Protect virtual infrastructure
Monitor and optimize virtual infrastructure
Describe best practice for connectivity, provisioning, data layout, and multipathing
Describe how deduplication, compression, and thin provisioning provide storage savings in a virtual environment
Contenido del curso
Implementing VMware vSphere on Data ONTAP (IMPVMVS) is a 3 day instructor led course where you will learn how to protect the virtual infrastructure in SAN and NAS environments as well learning how to manage storage at the virtual-machine level.
Updated features:
VMware vSphere 6
Virtual Storage console,
Virtual Volumes (VVOLs)
Knowledge Byte demo videos
Classroom training
Duración 3 días
Courseware language: Inglés
Presionar el boton sobre el nombre de la ciudad para reservar
Calendario
Este es un curso
FLEX
, que es entregado tanto virtualmente como en el salón de clase.
Europa
España
Actualmente no hay fechas de entrenamiento disponibles. Para consultas por favor escribir a info@flane.es
FLEX Training
Please see below our alternative, English language, FLEX course option.
Alemania
Reino Unido