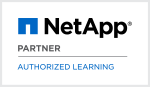 NetApp Data Protection Administration (DATAPROT)
Quién debería asistir
NetApp customers, partners, and employees
Prerrequisitos
!

NA-D8CADM
Data ONTAP Cluster-Mode Fundamentals (WBT)
Objetivos del curso
By the end of this course, you should be able to:
Describe Data ONTAP data protection technologies and data protection management solutions
Create and manage Snapshot copies
Describe SyncMirror and MetroCluster configuration
Create and manage SnapMirror relationships
Create and manage SnapVault relationships
Configure NDMP for backing up to tape
Describe Data ONTAP and third-party management solutions /list]
Follow On Courses
Contenido del curso
Become proficient with Data ONTAP Snapshot®, SnapRestore®, SnapMirror®, SnapVault®, Open Systems SnapVault, and NDMP technologies used to replicate and restore mission-critical data in the enterprise. Backup and restore operations are taught using the NetApp storage system command line and OnCommand System Manager. The course also provides an overview of the Data ONTAP 8.3 MetroCluster solution.
Classroom training
Duración 2 días
Precio
(sin incluir impuestos)
España:

1.800,- €

NetApp Training Units:

24 NTU
Fechas y Registro