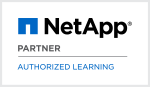 Creating and Customizing Workflows Using OnCommand Workflow Automation (CCWWFA)
Quién debería asistir
NetApp customers
System Engineers
Application Engineers
Prerrequisitos
Working knowledge of clustered Data ONTAP
Objetivos del curso
Creating and Customizing Workflows Using OnCommand Workflow Automation is a 2 day instructor led course that teaches you how to create and customize workflows to meet your organizational storage requirements by showing you how to create commands, finders, data sources, and functions. You will also learn about the NetApp PowerShell Toolkit and how it integrates with OnCommand WFA.
By the end of this course, you will be able to:
Configure OnCommand WFA
Describe OnCommand WFA design components
Create workflows
Customize workflows
Create building blocks
List Representational State Transfer (REST) API tasks and support resources
Explore the NetApp PowerShell Toolkit
Contenido del curso
Module 1: Introduction to OnCommand Workflow Automation
Module 2: Configuring OnCommand Workflow Automation
Module 3: Building Blocks and Workflow Enablers
Module 4: Designing and Running Workflows
Module 5: Refining Your Workflow
Module 6: Customizing Workflows
Module 7: Creating Building Blocks
Module 8: Representational State Transfer APIs and Support Resources
Module 9: Windows PowerShell and the NetApp PowerShell Toolkit
Labs
Classroom training
Duración 2 días
Idioma de los documentos del curso: Inglés
Calendario
Fast Lane llevará a cabo todos los cursos garantizados sin importar el número de participantes, excepto por razones de fuerza mayor u otros eventos inesperados, como e.g. accidentes o enfermedad del instructor, que eviten que el curso se realice.
Este es un curso en línea Guiado por un Instructor
Este es un curso
FLEX
, que es entregado tanto virtualmente como en el salón de clase.
Este es un curso
FLEX
, que es entregado tanto virtualmente como en el salón de clase.
España
Actualmente no hay fechas de entrenamiento disponibles. Para consultas por favor escribir a info@flane.es
FLEX & Online Training
Por favor, vea a continuación nuestra alternativa, el idioma inglés, la opción de curso FLEX.
2020-12-09 ― 2020-12-10
Londres, Ciudad
Curso FLEX. Lenguaje: Inglés


Zona Horaria: GMT