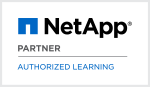 NetApp Architecture & Storage Design Workshop (NAASD)
Quién debería asistir
SAN designers and managers, who are responsible for planning and designing NetApp storage environments
Prerrequisitos
Basic knowledge in the field of storage technologies
Objetivos del curso
This course enables the participants to evaluate project requirements and to develop a suitable NetApp storage solution. The course gives an overview of current concepts and requirements in the mid-range and high-end storage solutions and shows how a storage solution is optimally integrated into the IT landscape. Concepts of storage networks, storage systems and backup solutions are also discussed, with an emphasis on functionality, availability, administration and security.
Contenido del curso
Storage concepts, functionality, performance, prerequisites

Storage Area Network (SAN)
Network Attached Storage (NAS)
SCSI over IP (iSCSI)
FC over IP (FCIP/iFCP)

Hardware basics

Fibre Channel
SCSI
IP networks
Storage subsystems

Solutions

Storage for high availability clusters
Storage for web servers
Storage for Microsoft file servers
Disaster recovery

Backup & restore
Storage management
Storage virtualisation
Storage security
NetApp storage solutions

Storage grids
FAS-Series
Data ONTAP 7G
Traditional volumes, flexvols and aggregates
Unified storage
gFiler and vSeries
Data consolidation, data management
NetApp´s Snapshot technology
NearStore
NetCache
Microsoft Exchange
Microsoft SQL
FilerView, SnapDrive, and DataFabricManager
Clustered Failover
MetroCluster
MultiStore
SnapValidator
FlexClone
SnapRestore
SnapMirror
SnapVault, LockVault
SnapLock
SyncMirror
Virtual File Manager

Examples of storage solutions
Classroom training
Duración 5 días
Precio
(sin incluir impuestos)
Courseware language: Inglés
Presionar el boton sobre el nombre de la ciudad para reservar
Calendario
Este es un curso
FLEX
, que es entregado tanto virtualmente como en el salón de clase.
Europa
España
Actualmente no hay fechas de entrenamiento disponibles. Para consultas por favor escribir a info@flane.es
FLEX Training
Please see below our alternative, English language, FLEX course option.
Austria
Bulgaria
Eslovaquia
Eslovenia
Hungría
República Checa
Romania